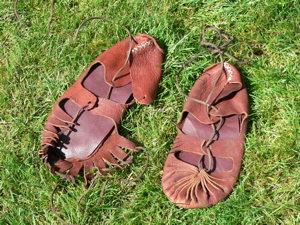 No higher resolution available.
Ghillie brogues
This image is licensed under the Creative Commons Attribution ShareAlike 2.0 License: http://creativecommons.org/licenses/by-sa/2.0/
An example of period footwear such as was worn in the Scottish Highlands from the late 16th Century and earlier until the middle of the 18th Century. These replica ghillie brogues were made from a single piece of leather according to a pattern. They were then wrapped around the foot and laced up to hold them in place. The leftmost of the pair is partially unfolded so as to show the pattern. This pair is from a Society for Creative Anachronism exhibit.
Photo was taken at the 2005 Skagit Valley Highland Games and is copyright © 2005 by James F. Perry.
File history
Click on a date/time to view the file as it appeared at that time.
Metadata
Ad blocker interference detected!
Wikia is a free-to-use site that makes money from advertising. We have a modified experience for viewers using ad blockers

Wikia is not accessible if you've made further modifications. Remove the custom ad blocker rule(s) and the page will load as expected.