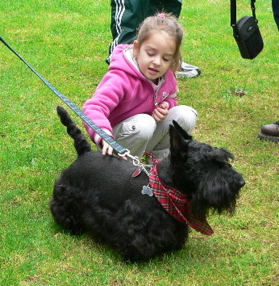 No higher resolution available.
A young dog lover pets one of the many Scotties on show at the 2005 Tacoma Highland Games.
The above image is copyright © 2005 by James F. Perry and is hereby made available under the terms of the Creative Commons Attribution - ShareAlike 3.0 license. Please note, however, that the license under which this material is made available concerns only my own rights as Original Author and copyright holder in the above material. The subject(s) of the above photograph may enjoy, and in fact should be presumed to enjoy, certain rights to privacy and publicity associated with their name and image and that these rights are rooted in public law. Users of this material bear the sole responsibility of determining whether or not such privacy/publicity rights are implicated and of conforming to whatever public policy regulations exist regarding same as well as conforming to any and all other matters of public policy related to the use of such images.
In accordance with section 4c of the cc-by-sa-3.0 license, this copyright notice may not be altered or removed and the URI of this page must also be provided by any users of the material covered by the license.


This work is licensed under the Creative Commons

Attribution-ShareAlike 3.0

License.

Appears on these pages

of
The images contained in this gallery are copyright © 2005 by James F. Perry and are hereby...
File history
Click on a date/time to view the file as it appeared at that time.
Metadata
Ad blocker interference detected!
Wikia is a free-to-use site that makes money from advertising. We have a modified experience for viewers using ad blockers

Wikia is not accessible if you've made further modifications. Remove the custom ad blocker rule(s) and the page will load as expected.