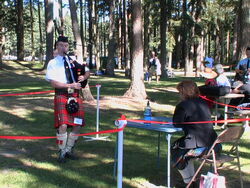 The Tacoma Highland Games, first held in 1970, held their 38th annual edition on June 23, 2007.
Around 60 dancers, dozens of individual pipers, and several pipe bands performed at the Tacoma Highland Games this year, including the Clan Gordon PB, the Northwest Junior PB, and the Tacoma Scots PB.
Date: June, 2008
Venue: Frontier Park, Graham, Washington
External link
Edit
Ad blocker interference detected!
Wikia is a free-to-use site that makes money from advertising. We have a modified experience for viewers using ad blockers

Wikia is not accessible if you've made further modifications. Remove the custom ad blocker rule(s) and the page will load as expected.